Interpreters Desk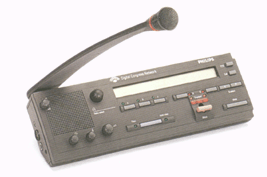 The Philips DCN Interpreters Desk is designed to be an active member in the overall design of the DCN conference mic system. It, like any other DCN device, can connect to the same DCN digital cable anywhere in the DCN chain.
The interpreters desk features a built-in monitor speaker with volume control that automatically shuts off when a microphone switch is activated on any of the desks in a booth. Up to 15 interpreters booths can be defined with up to 6 desks per booth. Through software control an intercom link can be set up directly to an interpreters desk who can speak through an attached handset in a private conversation with either a delegate unit, the chairman's unit, another interpreters desk or the system operator. Also, text messages can be sent to the LCD display on an interpreters desk from the PC console.
The Philips DCN interpreters desk has been designed with input from the A.I.I.C. (International Association of Conference Interpreters) in Geneva and is designed for ease of use, with monitoring sections and outgoing sections clearly defined in groups. Under software control, environments which host numerous events can store interpreter desk settings on the host PC and download the configurations to the desks when changes need to be made.
Should you require additional information on the DCN interpreters desk for purchase or rental contact us.