Simultaneous Interpretation Services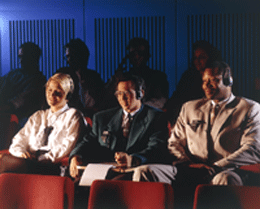 - Equipment
- Interpretation
At ICS we can provide a complete turnkey package of Simultaneous Conference Interpreters and equipment.
All of our interpreters are personally selected to meet the following criteria:
-competence
-delivery style
-education
-knowledge of the subject matter.
Most or our interpreters have worked with us for over 10 years, some for two decades.
In addition to the recruitment of interpreters ICS language coordinators distribute conference literature and documents to interpreters before assignments in order to facilitate the pre-conference preparation professional interpreters conduct in order to familiarize themselves with the topics beings discussed.
Simultaneous Interpretation
Real time, listening in your own language to a speaker, done in a fully enclosed sound booth. ICS uses Philips/Bosch Simultaneous Interpretation Equipment. Philips an undisputed leader in interpretation supplies equipment to the United Nations, the E.U, the U.S Government and many other numerous international organizations. ICS uses infrared transmission equipment for the highest quality audio fidelity and most efficient setup time. ICS has provided interpretation systems for use in arenas and stadiums for up to 15,000 attendees. We can provide complete turnkey services including interpreters and translator as well as a number of different interpreters booths.
Consecutive Interpretation
Pause after each sentence or two. Useful for press conferences and business negotiations, not appropriate for conferences.
Whisper Interpretation
A form of simultaneous interpretation, rather than a booth the interpreters whisper into a portable transmitter. Useful for factory and other tours, not ideal for conferences. Portable "whisper" equipment for small informal groups.