Sales Overview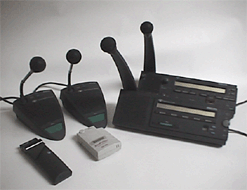 A photo of the Philips DCN Conference
Equipment, a Telex Auditory Assistance
Receiver and Philips Infrared Receiver.
We provide the advanced Philips DCN (Digital Congress Network) conference microphone and simultaneous interpretation system, Listen and Telex Communications RF.
Our product catalog is designed to give you complete information about these products. For specific questions about products contact us for assistance about specific items of interest.
At ICS our Projects Department handles custom installations for fixed systems used in Board Rooms, Videoconferencing Facilities, Conference Centers, and Legislative Chambers. For further information and quotations on systems for permanent installation contact us for a consultation on your project.
Integrus
The Integrus from Bosch is the world's first fully digital infrared language distribution system. It is unique in offering high-quality, wireless audio distribution which is completely immune to distortion from hall lighting. And being wireless it gives delegates total freedom of movement.
Crystal Clear Reception
The most remarkable aspect of the Integrus is its sound quality. By using a higher frequency band (2 to 6 MHz) it operates way beyond the reach of all types of hall lighting. Specially developed digital audio technology has resulted in a much higher signal/noise ratio of 80 dB or more. This, together with advanced error correction that includes the use of a Reed Solomon coder, ensures sound comes out of the system exactly as it goes in. The result is improved speech intelligibility and greater listening comfort. It is even possible to further increase audio performance by combining the available channels to give 16 stereo channels.
Easy channel selection
Delegates can select one of up to 31 different interpretations, plus the floor language, by simply scrolling through the menu shown on the receiver LCD display. Any unused channels are automatically removed from the menu, which makes it easier to find the desired language.
Simplified installation
Integrus receivers also have a built-in facility for checking radiator coverage. During installation they can be carried around the venue and used to measure the signal strength at any point.
A complete system
The heart of the Integrus system is the central unit. It interfaces with conference and discussion systems and is also connected to infrared radiators, which transmit interpretations to ergonomically designed receivers, curved to fit easily into a shirt or a jacket pocket. Delegates listen to the interpretation of their choice using headphones or lightweight ear phones.
Fully Approved
Integrus is the world's first infrared language distribution system to fully comply with IEC 61603 part 7 This is the new industry standard for digital infrared transmission in the 2 to 6 MHz frequency band.
Suitable for meetings of all sizes
Integrus is ideal for congress centers, universities, international organizations, or indeed any venue where simultaneous interpretations take place. It is also widely compatible with existing congress infrastructure. It links up to the DCN conference system to keep the entire congress proceedings in the digital domain, bringing far greater control and better audio quality. It can be used with CCS 800 discussion system for perfect reception at smaller meetings. And it also interfaces easily with virtually any other brand of congress system.
Listen Transmitters

Listen technology manufactures 2 receivers the LT-800 base station transmitter and the LT-700 portable transmitter.
The Listen LT-800 Stationary Transmitter is available in both the 72MHz and 216MHz frequency range, with 57 channels in each frequency range. This means you are sure to find a clear signal, or can use up to six Listen LT-800 Stationary Transmitters in the same area (often used for simultaneous interpretation) in 216Mhz.
Thanks to its outstanding audio quality, the Listen LT-800 Stationary Transmitter can be used in a variety of applications. The LT-800 is connected to your main audio system, then broadcasts that high quality audio signal to belt pack receivers, stationary receivers, or wireless speaker/receivers. The end result -- your audience can hear you better because of better speaker placement or because they have their own belt pack and headset.
Auditory assistance is aided by installing the transmitter with your facilities main audio system. Remote amplification can be achieved using the LT-800 and Listen's LR-100 Stationary Receiver/Power Amplifier or LR-600 Wireless Speaker Receiver. Language interpretation (including multiple simultaneous interpretations) can utilize a sound booth (a separated area or room where the interpreter can speak and not disturb the rest of the audience), and broadcast the interpretation with an LT-800 to individual receivers.
The LT-800 also supplies two mixing audio inputs. Installation of the stationary transmitter can also be aided by a "test tone" transmitting from the unit.
The LT -800 can be rack mounted with other audio equipment, or set on a shelf. A complete line of antennas is also available from Listen.
If you have the need to take audio signal from one point to another, the LT-800 Stationary Transmitter can offer a solution for you.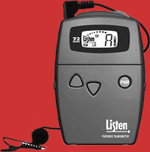 The LT-700 Portable Transmitter will broadcast your interpreter or tour guide's voice to everyone in the audience, without having to carry a microphone or be plugged into the wall. Excellent for factory tours, outdoor events, wireless microphone applications, classroom or training, or personal use -- anywhere you need to amplify sound but don't have (or want) an installed sound system!
This portable transmitter offers a unique Look & ListenTM Display; at-a-glance verification of channel selection and battery level. In addition, a red LED on top of the unit communicates ON/OFF status, low battery, and mute status. Portable transmission has never been easier for users!
Built-in SmartChargeTM -- Charging circuits are conveniently built into Listen's portable transmitters, saving money and hassle by eliminating the cost of external battery chargers and extending rechargeable battery life. Simply plug in a wall transformer; batteries automatically recharge and won't overcharge. This also eliminates the hassle of removing the batteries or a charger at a specified time.
Long-Life Nickel Metal Hydride (NiMH) Batteries will operate a Listen Portable Transmitter for 8-16 hours. High capacity alkaline batteries will last 16 hours. Plus, rechargeable batteries conveniently recharging in the unit using Listen's SmartCharge technology.
To download a PDF datasheet of the LT-800 Transmitter LT-800
To download a PDF datasheet of the LT-700 Transmitter LT-700
Should you require additional information on the Listen transmitters please contact us.