Videoconferencing Facilities and Services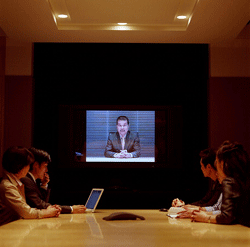 At ICS we maintain videoconferencing facilities in-house at our Burbank office in both a conference room supporting up to 10 participants or small office supporting up to 4 participants. We also have available portable systems which can be used at hotels or conference centers available for rental.
We feature systems by Polycom, Picturetel, Sony, and Vtel and can support up to 768Kbps transmission over 5 ISDN dial up lines conforming to H.320 standards. We maintain our own ISDN PRI lines and Nortel ISDN switch to allow configurable numbering in our public rooms. We can schedule ad hoc video conferences with up to 2 hours notice and have access to bridging facilities for multi site conferences. Our in-house systems can be interfaced with our simultaneous interpretation equipment to allow multilingual simultaneous interpretation to multiple sites.
Additionally, we can supply portable videoconferencing equipment for use at hotel or offices where ISDN lines are available with or without the services of a trained operator.
Should you need further information or wish a price quotation please contact us.