Listen Technologies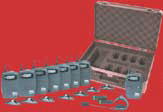 Listen 7 Person Portable
System
We provide equipment manufactured by Listen technology for auditory assistance and simultaneous interpretation. They provide both portable and base station transmitters. Their portable transmitters are ideal for tour guide or small group use while the base station transmitter is for use in permanent installations such as churches or theaters. Both transmitter units are multichannel.
The Listen systems offer both single channel and multichannel receivers in the 72 Mhz band set aside by the FCC for auditory assistance for the hearing impaired to comply with A.D.A. requirements or the new 216 Mhz band.
For additional information on Listen systems contact us.