Typesetting
At ICS we maintain an in-house, fully equipped multilingual typesetting department. Our professional typesetting and graphic layout specialists can assist your organization with producing camera ready originals for brochures, publications, newsletters, flyers, conference agendas, technical papers, posters, banners and other types of documents.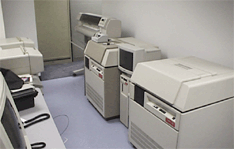 With specialized state-of-the-art digital imagesetters and ink jet plotters our typesetting specialist can provide your organization with quality document material in the timely manner required. Our typesetting department works with all major document preparation packages such as Quark Xpress, Adobe Framemaker and Pagemaker as well as Adobe Photoshop, Illustrator, and Macromedia Freehand and has full support for "double-byte" fonts such as Japanese, Chinese and Korean as well as other non-Roman typesets such as Cyrillic, Eastern European, Greek and Thai. We are also equipment to handle your multilingual website translation and scripting needs.
As all service are provided in-house we have total control over quality and production schedules allowing us maximum flexibility when it comes to our client's work.
Should you require a quotation on multilingual typesetting or wish further information please contact us.