Board Rooms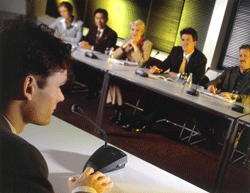 The Philips DCN and CCS800 systems are idea for use in corporate boardrooms or for use by school boards.
The CCS 800 system with its compact design and ease of operation is ideal for use by school boards or in multifunction rooms where a functional, simple to operate system can be set up in minutes. The system is designed for quick setup and easy operation. A system with 6 microphones and control unit can be stored in a small suitcase style case with additional cases holding 10 more microphones. The CCS 800 can support up to 50 microphone units and features a simple to use control unit with multiple inputs and outputs to fully interface with a wide variety of audio equipment for complete functionality.
The Philips DCN system is a full featured system with a variety of components which allow both tabletop and flush mounting, permanent installation. Additional features such as voting, card authentication, attendance, microphone management, video camera control, messaging and intercom can be supported by one DCN system to allow a range of services from one system in a board room setting. The modular design of the system makes it possible to start off with a system designed for conference microphones only and expand it to provide other services when the need arises.
Should you require further information on conference systems for boardroom uses please contact us.