DCN Conference System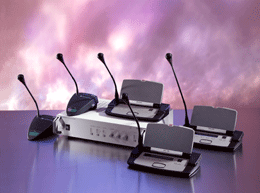 The Philips DCN (Digital Congress Network) system was developed by Philips in the Netherlands and is the world first digital congress system which utilizes digital signal processing and transmission via s simple network system. This leads to high audio quality, low crosstalk and simplified installation and operation.
Through innovative design all components of the DCN system can be controlled utilizing software modules operating on a standard PC to control various conference activities such as system setup, voting, microphone management, attendance, simultaneous interpretation, video control or run in an operator-free configuration.
The DCN discussion system is comprised of three models the discussion model is available in both long and standard length neck designs and is available with or without a built-in interpretation receiver.
The DCN Concentus system is capable of operating in delegate controlled, operator controlled and voice activated mode. The Concentus microphone units are available in a number of configurations, a basic model, models with chip card readers, models with LCD screens and models with built-in interpretation receivers. All standard DCN models have integrated buttons for voting and connections for intercom handsets.
Additionally, for permanent installations flush mount units are available in a modular design to provide the exact requirements necessary for a specific installation. The modular design also makes it possible to change the functions of an installed system at a later time without sacrificing existing components.
Should you require additional information on DCN Conference Systems please contact us.