Conference Microphone Systems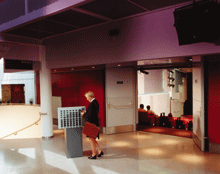 The Philips DCN and CCS 800 conference microphone systems are ideal for use in conference centers and meeting rooms. The one cable daisy chain connection between the microphones makes installation easy enough for one person to complete in a short amount of time. The use of a small diameter cable with din connections makes hiding wiring and taping extensions a simple procedure.
Unlike many wireless solutions there is no worry of interference from outside radio sources or any nightly battery charging to worry about. Since each unit has its own built-in loudspeaker it can be used in rooms without a public address system and can control feedback since the overall level of the public address system can be minimized. The DCN system can be integrated with computer control and have built-in voting and simultaneous interpretation. It can also operate in a delegate, operator or voice activated control mode allowing maximum flexibility for conference operators. The DCN system is available in either a flush mount or table top configuration allowing a conference center to permanently install a system or utilize a portable system which can be setup in minutes and controlled without an operator with virtually feedback free operation for even 200 or more microphones.
Should you require additional information on conference systems please contact us.