Videoconferencing Systems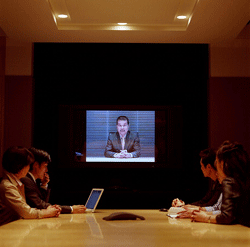 The Philips DCN system is ideal for use in videoconferencing systems as the system can be interfaced with a Philips Autodome camera to provide computer controlled zooming and panning to active microphones. The system can be set for up to 6 camera units which can be ceiling mounted with up to 100 programable locations per camera. A fixed overview camera can be assigned for use during panning functions.
In a video conferencing setting the microphones are set to manual control mode and when a participant activates their microphone a specific dome camera immediately pans to the preprogrammed speaker location. As each unit had a directional condenser microphone and an integrated speaker a new level of audio clarity can be brought to videoconferencing system. Coupled with microphone management and database software a speaker log can be generated and speaker names can be included with the video signal. A simple "near end/far end" audio connection makes the system easy to integrate with a number of video codecs.
Should you require additional information on systems for videoconferencing please contact us.