DCN Simultaneous Interpretation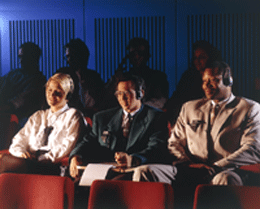 The DCN system has complete facilities for simultaneous interpretation with both wired and wireless infrared transmission. Integration with all DCN conference microphones is accomplished with built-in channel selectors to allow delegates to hear interpreted signals thought their microphone units. The DCN system was designed with simultaneous interpretation integration in mind needing no additional connections between multiple units. The DCN interpreters desk connect directly to the DCN digital trunk using a single cable. The DCN system provides a complete interpretation environment from conference microphone to interpreters unit to wired or wireless infrared transmission.
The DCN interpreters unit has been designed in conjunction with international interpretation organizations to provide maximum functionality with ease of use. This allows the system to be easily learned by new interpreters without confusion. in conjunction with the DCN interpretation software under computer control interpretation monitoring and recallable booth/channel assignments can be provided for a complete interpretation environment.
Wireless transmission via infrared is available in two systems. The traditional analog system which is capable of up to 16 channel transmission and the new Integrus digital transmission system utilizing digital transmission in the 2-8 Mhz frequency range to provide high audio quality and minimum interference, which is capable of up to 32 channel transmission.
The DCN system provides wired simultaneous interpretation transmission either though conference microphone units with integrated channel selectors or via a channel selector unit which connects to the DCN digital trunk line and provides wired interpretation for permanent installations into seat armrests or desktops.
Should you have any questions concerning simultaneous interpretation equipment please contact us.